• Mark Nogula • engraved gifts • gift for him • hip flask • lighters • pocket watch
Engraved Gifts - Why Engraved Gifts Are Ideal For Someone Special Buying gifts is not easy, and it becomes more challenging with every year that passes by. It is all about finding the perfect balance. You want to buy a present that is going to have the wow factor and be different from what everyone else has bought. However, you don't want to take such a big risk to the point where the recipient does not like what you have bought them! With that being said, read on to discover why engraved gifts are ideal.   When buying a gift...
---
• Mark Nogula • engraved gifts • gift for him • hip flask • personalised gifts • pocket watch
Are you currently looking for a gift for your boyfriend, father, or brother? Buying gifts for men can be difficult, and it gets more and more challenging with every year that passes by. One thing you should certainly consider is personalised engraved gifts for him. We've rounded up some of our best engraved gift ideas for him below.   A lot of people are apprehensive about buying personalised gifts for men, as they worry that they are too 'feminine' or 'soppy'. However, this could not be further from the truth. There are lots of classy yet touching messages that can be...
---
• Mark Nogula
A guide to British gifts   Britain has long been known for the high quality of innovation and manufacturing that has led to a magnificent range of gifts being available for customers who love to explore bold, modern new products, as well as the iconic traditional gifts that bring that slice of British life into the home.   England, Scotland, Wales and Northern Ireland are countries with long and rich heritages and they act like magnets for visitors from around the world. Each country's heritage is unique and throughout Britain there are artisans with flair and imagination bringing high calibre...
---
• Mark Nogula
Engraved hip flasks would make a great gift for anyone that enjoys liquor. Does your grandfather love a good drink of whisky? Perhaps your partner is a lover of gin? No matter what applies, a hip flask is a gift they are assured to love, and the engraved aspect adds a special and thoughtful touch.   When buying a present for a friend or family member, you want to show them that you have put a lot of thought into the gift you have purchased them, and this will definitely come across with an engraved hip flask. There are some...
---
• Mark Nogula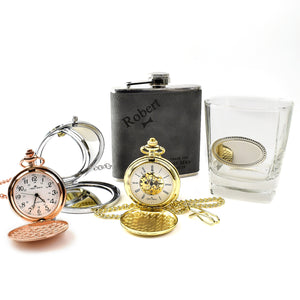 You've responded to the RVSP, you've got the right place, time and date sorted and you've got your suit and dress ready; but what about the wedding gift? So many people attending weddings feel the stress of trying to work out what to buy for the newly weds. Engraved gifts, however, are always a classic wedding gift idea. But is, for example, an engraved pocket watch wedding gift best or something else?   The reason we mention an engraved pocket watch wedding gift as an idea is because it's a wonderful item to receive. Think about it: couples want to...